Bryce Canyon City is a gateway community to Bryce Canyon National Park and to world class outdoor recreation destinations. The City strives to provide amenities and services that support residents and visitors, encourages a year-round local economy, and provides a safe environment with efficiency services while preserving the integrity of resources valued to the community.
Strengths
Strong sense of community with the Bryce Valley.
Economic activity center within the region.
High speed fiber internet service
Convenient access to natural resources/recreational opportunities.
Weaknesses
Employment options are focused on tourism almost exclusively.
Seasonal economic activity fluctuation.
Lack of available land and facilities for development.
Employers in the city primarily only attract workforce from the Bryce Valley and Panguitch.
Opportunities
Strong demand for employment.
Increasing demand for resort-related development and business activity.
Potential for shared services with neighboring communities (i.e. public safety, regional shuttle).
Possible transportation connections between regional recreation amenities.
Threats
As a resort community, the local economy is susceptible to conditions often outside of community control.
Periodic government 'shutdowns' that significantly affect tourism activity.
Potential for new threatened and endangered species development restrictions on surrounding land.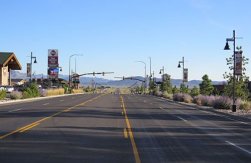 Current Conditions
Bryce Canyon City is a gateway community that relies heavily on tourism activity. Ruby's Inn, Inc is the anchor business for the area, though a few other businesses currently operate in the city boundaries.
Beginning in 2015, domestic and international visitation increased to record levels, both nationally and statewide, due in large part to a healthy economy and relatively low gas prices. The current slowdown in international visitation is not expected to affect the area over the long term. Activity is expected to increase as more people discover what the study area has to offer.


Goals + Policies: Economic Development
Establish a business and development climate that protects the tax base and is attractive to resort-complementary commercial establishments.
Current Conditions
Bryce Canyon City maintains approximately two miles of paved public road. Highway 63 is the city's Main Street, and has one designated crosswalk. There are a number of ATV trails and private dirt roads in the area, as well as a limited number of non-motorized trails that are popular for hiking and equestrian use.
Goals + Policies: Transportation
Develop a transportation infrastructure to accommodate both residents and visitors.
Provide a robust level of parking for residents and visitors throughout the year.
Implement pedestrian-focused design throughout the City.
Focus transportation infrastructure improvements on critical aspects of transportation.
Support a multi-user transportation model including legal and orderly OHV usage.
Current Conditions
Assessing a community's housing stock in a general plan ensures that future housing needs are addressed before the issues of supply, cost, and quality become problematic. Bryce Canyon City is a city of quality housing stock and a welcoming population. Members of the community share the goals of high quality and accessible housing. This can be achieved by allowing diverse housing styles that blend aesthetically with neighboring structures and land uses.
Bryce Canyon City currently has single family housing, multi-family dwellings, transient housing, and seasonal RV sites. An employee RV park was developed in order to provide moderate income housing options.
Goals + Policies: Housing
Work with other agencies to find solutions to regional housing problems. (Note: It is anticipated that the City will maintain an ongoing partnership with the Five County Association of Governments to find solutions to the region's housing issues).
Provide opportunities for housing that meets the needs of a broad range of incomes, family compositions (singles, couples, and families with children), and ages.
Current Conditions
Require mass, density, color and design of buildings that support the Natural Park Service Rustic style and do not distract from the natural setting.
Agriculture/Open Space: Preserve Ag purposes and conservation easements.
Low Density Residential: Primarily single-family detached residential lots and or estate type lots.
High Density Residential: Duplexes, townhomes, condominiums and apartments are typical of this zone.
Resort Commercial: Includes a mixture of lodges, restaurants, retail businesses, bars, other predominantly pedestrian oriented settings.
General Commercial: Include a large range of commercial uses, a mix of uses is encouraged.
Civic: Schools, churches, libraries, fire stations, or similar public facilities.
Light Industrial: Provides space for indoor warehousing, indoor light manufacturing and fabrication.
Recreational Open Space: Areas preserving land use requiring substantial open space free from structures, roads, and parking lots. Encouraged uses include parks, golf courses, and trails.
Goals + Policies: Land Use
Establish orderly, planned growth and development that enhances the City's distinctive resort environment and small-town character, and provides consistent services and infrastructure.
Preserve and enhance the visitor experience.
Require mass, density, color and design of buildings that support the Natural Park Service Rustic style and do not distract from the natural setting.
Current Conditions
Overall, the community wants to maintain a National Park Rustic style design elements particularly for its gateway areas. New residential and commercial developments in the community should add to the sense that they are in a destination area. The City is trying to develop into a contemporary resort.
Goals + Policies: Community Design
Create a community with congruent and adequately dense land uses. As the community looks to unify the elements of the community to create a defined community character, the City should research and encourage adequate growth and density within the centralized core.
Create a more pedestrian-friendly community. As new development is proposed, and/or as resources become available to the City, invest in things that promote an active lifestyle.
Implement a community streetscape enhancements program. A community with a unified streetscape has a strong sense of character. It is recommended to implement a comprehensive streetscape project that will allow for a unified character when enhancements are constructed.
Retain small town charm. The small town way of life is an attractor for residents and visitors. It is critical that the small town charm be retained.
Prepare the built environment to personify the community's vision for Bryce Canyon City. Ensuring that the buildings and built environment are of adequate form to meet the community goals will ensure that the community maintains character.
Preserve the natural environment. Critical to the small town charm is the ease of access to the natural assets surrounding the community.
Preserve unique history. Preservation of the historical assets will protect the character of the community.